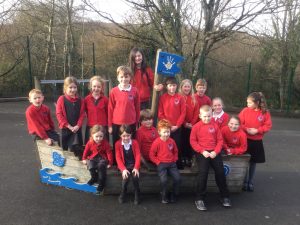 Super Ambassadors
The Super Ambassadors is ascheme from the Children's Commissioner of Wales to promote childre's rights and the UNCRC in schools.
Pupils elect  two Super Ambassadors at the beginning of every year to carry out three duties.  These are to inform other pupils about the Commissioner and her powers, ensure other pupils know about children's rights under the UNCRC and carry out special missions for the Commissioner in their school.
Super Ambassadors 2018 / 2019  – Lilly-Ella, Daniel
The School Council
The school council is group of students who are elected to represent the voice of all pupils and to think of ways to improve the school. The representatives speak their peers in order to get a balanced opinion of the pupils' feelings and to report this back to the full School Council. The Council gives everybody feedback on the decisions of the Council through whole-school assemblies and in individual classes. This ensures that everybody is aware of the work of the Council. Throughout the year the Council discuss and arrange a host of activities such as fund-raising events, fun activities and lots more.
The Welsh Government believe that children and young people have the right to be safe, happy and healthy and to develop their skills and potential through education. Article 12 of the United Nation's Convention on the Rights of the Child states that children and young people have the right to say what they think should happen and be listened to.
The School Council 2018-2019
Yr 6 – Lilly-Ella, Finley, Catherine, Trystan
Yr 5 – Isabelle-Starr, Sam
Yr 4 – Imogen, Ellis
Yr 3 – Flo, Jac
Yr 2 – Ethan, Freya
Yr 1 – Tom, Isla
Reception – Lucy, Rex
Criw Heulwen Hawlia
Criw Heulwen Hawliau is a steering group for the UNICEF Rights Respecting Schools initiative. The Super Ambassadors, Bronze Ambassadors, members of the School Council, elected members, staff representatives and the Chairperson of the Governors are all part og the group. The Criw discuss the school's Action Plan for Silver Status and ensure that the articles of the UNCRC are at the forefront of school events and activities.
Criw Heulwen Hawliau 2018-2019:
Yr 6 – Trystan, Megan, Lilly-Ella, Daniel
Yr 5 – Sam, Isabelle
Yr 4 – Ellis, Imogen
Yr 3 – Lacey
Yr 2 – Hali
Yr 1 – Mali
Reception – Zoe